Be Boppin' Baby's zip front 50's gabardine style jackets!"
Based on the 50's CLASSIC gabardine jacket, "Be Boppin' Baby" offers custom made jackets in four different styles to choose from, available in Medium, Large, X-Large or XX-Large sizes, in various color combinations. These jackets are $175.00 (US) plus postage and handling.
STYLES:
The "Flattop", a classic two-tone style!
The "Eddie", a solid-color version. Choose your own color!
The "Gene", a two-tone version with a dark color over the shoulders, specify your color combo!
The "Vincent", with a different color panel down the front, specify the two colors you want!

The "Flattop"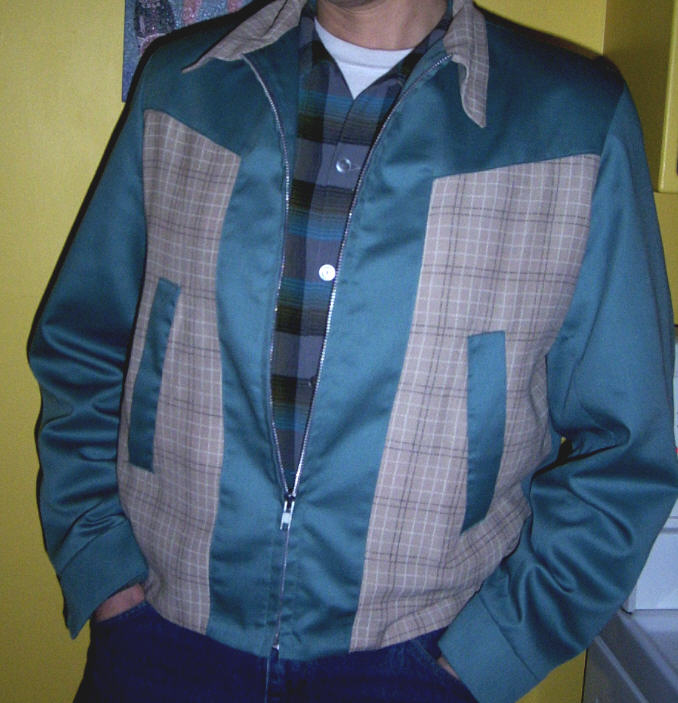 The "Eddie"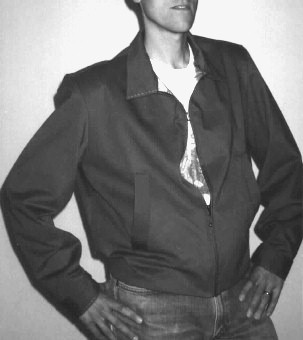 The "Gene"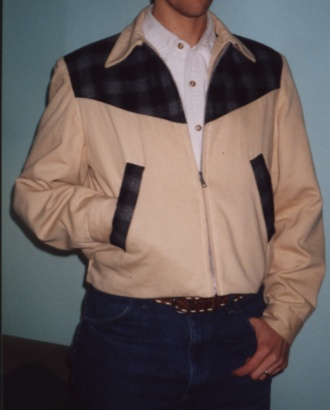 The "Vincent"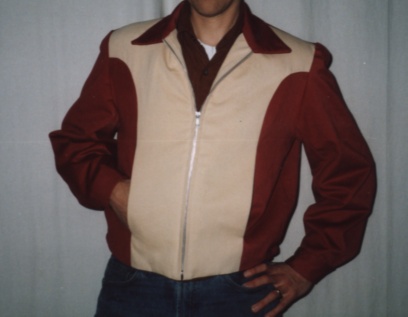 SIZES:
Chest: Double the distance from Side Seam to Side Seam
Length: Top Of Collar to Bottom Of Jacket

Medium, Chest 46" , Length 21"
Large, Chest 48" , Length 21 1/2"
X-Large, Chest 50" , Length 22"
XX-Large, Chest 52" , Length 23"
MATERIAL:
We offer a changing variety of materials for jackets... check out our latest selection of colors! Or tell us what colors you want and we will email you some pictures of samples.
HOW TO ORDER:
Choose your style, size and colors, then email your order, AND where you live, to Be Boppin' Baby (tracenelson@hotmail.com) We will email back with the price for postage. (Postage charges vary according to your location, but usually it's about $20 to most US locations, and remember "Be Boppin' Baby" ships around the world!) Then you can pay with a credit card by Paypal (Paypal button on main page; for more info: www.paypal.com) or you can send a check or money order to Be Boppin Baby, we will email you our postal address! Once we receive your payment, we start making your custom jacket and ship it as soon as it's ready, usually 2-3 weeks.